If you see this message coming up when trying to set up a user on a new PC: -
Business Plus User
Could not delete from specified tables.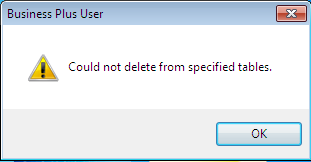 This can often be because although the machine has sharing permission, it may not have security permissions.
Common side effects of this can be;
Being Able to create files in the site folder, but not being able to modify existing files.
To change this;
Go to the sites folder (on the main machine), Right Click it and select properties.

Click on the security tab, and click edit and add the new selected user.

Once you have done this, try editing one of the folder names, by adding a character. (If you succeed, remember to change it back!)