In SellerDeck 2014 onwards, a new YouTube integration has been added. If you would like to set up the YouTube integration please see instructions below:
Open SellerDeck 2014
Go to Settings | Site Options | Social Media
Scroll down to the 'YouTube' sub-heading




Inside Custom URL you would enter your Channel Name, this requires you to have a Custom Channel URL you can do this by going to YouTube Settings, next to your Channel Name there should be 'Convert to Custom URL' and write the Channel Name you would like. What you enter in there would be what you enter in the Custom URL field.
Once you have entered this press 'Apply' and 'OK'.
If you then look in Page Preview you should see the YouTube icon.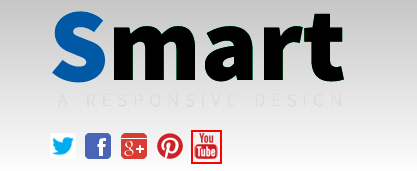 Additional Features:
Subscriber Count Visibility:
Enabling this will show the amount of subscribers you have next to the Subscribe button.
Embed Video:
If you go to a Product / Section / Fragment and in the General tab there will be a field called Embed Video, to find the code to enter here you would go to a YouTube video, go to 'Share' then 'Embed' and Copy and Paste the code from here to there.