SellerDeck Payments is an online credit card processing system (otherwise known as a Payment Service Provider or PSP) that provides a secure payment gateway to your acquiring bank. SellerDeck Payments provides the link between your website and your acquiring bank and passes information between the two, including results on authorisations and security checks.
Your buyer enters their payment details into the SellerDeck Payments ecommerce credit card processing system, which passes these details to the banking network. SellerDeck Payments then receives details of whether the payment was authorised or not, and the results of any automated fraud checks.
For all orders the success or failure of the payment is passed to your web site and recorded against the order.
How to sign up for SellerDeck Payments credit card processing:
First, contact your bank and do two things:
Check whether your current merchant account can be used for internet payments (some banks require a separate merchant account for this)
If you do not have a merchant account, see our Guide to Obtaining a Merchant ID
Tell them that the account will be used with the Creditcall payment system
NB the default setting for SellerDeck Payments is 'charge transactions immediately', this means that payment will be taken when the order is placed.
You can change this in 'Business Settings | Payment and Security'; Select 'SellerDeck Payments' and click 'Configure Method'. In the screen that comes up you will see both options: -



Charge transactions immediately: Customer's card is charged immediately
Pre-Authorise transactions: The payment will be charged later by the vendor
Next, call SellerDeck Sales on 0845 129 4888 and sign up for SellerDeck Payments
.
Apart from the usual company and contact information, you will need to provide details of :
your acquiring bank
merchant account(s)
type of payments taken (Internet/ecommerce and/or MOTO)
details of your web site and what you will be selling
anticipated sales volumes
payment card types that you wish to accept
the currency you will accept
Login to your account using the user details provided by SellerDeck
and enter details to complete the application. The Terms and Conditions of your service agreement with SellerDeck are available
here
.
Please note you must not register payment types, card types or currencies that your acquiring bank merchant number cannot take.
Once completed the application will be automatically processed and provisioned by the banking system.
Typically, this takes around 5 working days. If there is a problem with the information supplied, we will contact you for clarification.
You will receive an email with all the details you need in order to configure your SellerDeck product to work with the credit card payments service.
How to configure your ecommerce application to work with SellerDeck Payments
SellerDeck Ecommerce Software:
SellerDeck Payments requires either Actinic v9.0.2 or higher, or Actinic v8.5.3 with the latest Payment Gateway upgrade. To add SellerDeck Payments as a secure payment option, do the following:
From the Settings menu, select Business Settings
Select the Payment and Security tab
Click '+' next to Payment Method. A new line will appear in the Payment Methods table
From the drop-down menu in the new line, select 'SellerDeck Payments Ecommerce' (to use SellerDeck Payments for online transactions) or 'SellerDeck Payments CNP/MOTO' (for mail order / telephone order payments; SellerDeck Business, Business Plus and Enterprise only). You can install both.
Click 'Configure Method'
Enter the PSP settings provided by SellerDeck (under 'Terminal Info for Ecommerce' and / or 'Terminal Info for MOTO' respectively, from the link in your confirmation email)
Under 'Operation', click the radio button 'Run in production Mode'
Check that the other settings are the ones you want, and click OK
Click OK again and Publish to Web (v9 or higher) or Refresh (v8)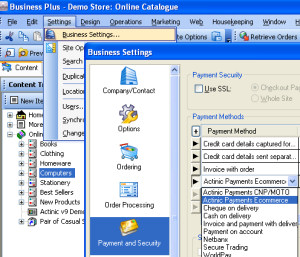 SellerDeck Payments Setup Screen
SellerDeck Payments can only be used with SellerDeck ecommerce applications.
Can I tailor the appearance of the payment page in SellerDeck Software?
You can make changes to the overall design of the payments page by providing an alternative style sheet. See our Knowledge Base article which explains how to make these changes:
LINK
. This will enable you to match the page where the card processing takes place to the overall design of your site.
Which acquiring banks (card acquirers) and which payments cards does SellerDeck Payments support?
SellerDeck Payments integrates to all major UK banks, and some minor ones. The acquiring banks supported are listed below along with information concerning:
Whether a separate merchant account is required for MOTO (mail order, telephone order) / CNP and internet / ecommerce credit card processing
Whether AVS is supported
Whether CVV/CV2/CVC is supported
Whether 3D Secure (Verified by Visa and Mastercard SecureCode) is supported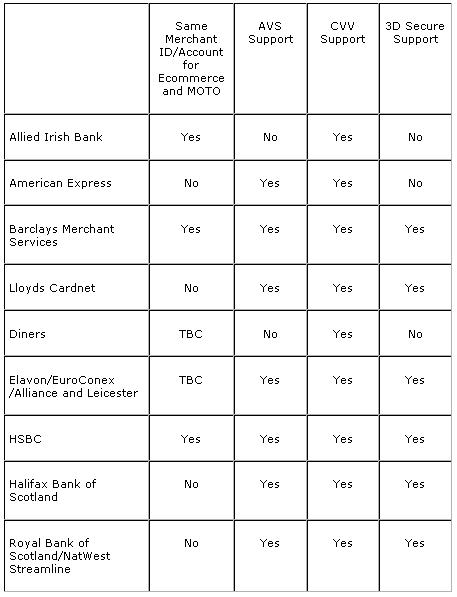 The following card types are supported with all the acquiring banks listed above:
Visa
Visa Debit
MasterCard
Mastercard Debit
UK Maestro (previously Switch)
International Maestro
Solo (Mastercard Debit)
Electron (Visa Debit)
Visa Delta
Amex (see below)
Diners (see below)
To accept Amex you must have an Amex merchant account. Amex Merchant accounts can be obtained directly from Amex and in some cases through the primary acquiring bank although this tends to be more expensive. A separate connection to your SellerDeck Payments account is required to support Amex. This can be done during your initial SellerDeck Payments setup, or added later for a small additional charge.
To support Diners you must have a Diners merchant account available from Diners.
The following are not supported:
Laser, an Irish debit brand (it is supported via Allied Irish Bank)
Irish Domestic Maestro (it is supported via Allied Irish Bank)
JCB cards, Ulster Bank and First National are not integrated with SellerDeck Payments
Discover (US card only) cannot be accepted through SellerDeck Payments
How to prevent fraud:
All of these are processes introduced by the banking industry to help combat fraud.
* AVS stands for address verification system and allows a merchant to check that the address that the buyer has provided matches the address held by the card issuer for that payment card.
* CV2 is usually the "last three digit on the strip on the back of your card" which is normally asked for online and when you order over the phone.
* Chip and Pin is the standard used in shops and restaurants where a pin number is entered by the buyer in place of a signature.
* 3D Secure, Verified by Visa and MasterCard Secure are different names for the same thing. 3D Secure is the generic term and the other two being the terms for this used by Visa and Mastercard. In essence, this is Chip and Pin for web buyers, where the buyer is asked to validate their identity by entering a password. There are special precautions to stop this data being hacked and the card industry assumes a bigger chunk of the risk when 3D Secure is used.
These checks provide extra information on the payment and allows a judgement to be made on the likelihood of fraud.
Following the release of v9.0.4, every SellerDeck Payments account will include automated fraud screening by the 3rd Man at no extra cost, and full fraud check results will be displayed for each order on the SellerDeck desktop. Click on the link below to see the specific automated fraud screening article:
http://community.sellerdeck.com/showthread.php?t=44732